Pizza Ham Cheese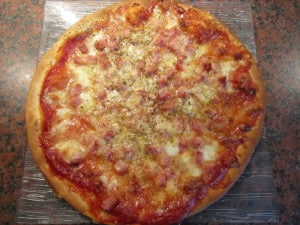 Ham and Cheese Pizza, a traditional ham based pizza.
Component
250 grams flour
1 sachet of baker's yeast
1 teaspoon salt
15 cl lukewarm water
3 tablespoons olive oil
400 g cooked tomato sauce
2 pieces of ham
2 balls of mozzarella
100 grams grated emmental
oregano
Preparation
1- Prepare the dough: In a food processor, combine the flour, salt and yeast and mix well. Add lukewarm water and knead until a ball is formed. Add 3 tbsp of olive oil and knead it to mix it into the dough.
2- When the dough becomes very soft and sticky, put it in a salad bowl, cover with a tea towel and let stand in a warm place for 2 hours.
3- Put a little oil in a drip pan. Roll out the dough on a floured work surface, using a rolling pin to match the size of the platter.
4- Place the dough in the drip pan, spread the tomato sauce on top, add a little oregano, then distribute the ham and mozzarella. Finish with grated cheese, add a little herbs.
5- Turn on the oven to 250°C, and leave the pizza at room temperature while the oven is hot (this keeps the dough rising a bit). Bake the pizza for about 20 to 25 minutes while the oven is hot. Enjoy straight out of the oven.